Are you looking for a reliable garage door company near you? Look no further than Don's Garage Door Service! Your garage door is not just a crucial component of your home; it's also one of the largest moving parts you own. That's why at Don's Garage Doors, we have built a solid reputation for our expertise and take pride in delivering top-notch service and satisfaction to our customers. We are committed to offering outstanding garage door services, utilizing the highest quality doors, garage door materials, and components the industry has to offer.
Discover the unparalleled service with Don's Garage Door Service and our comprehensive range of services to the Columbus community including garage door installation for a variety of different garage door styles, garage door opener installation geared towards your particular operation needs, garage door repairs to small or large doors, broken garage door parts or spring replacement, regular garage door maintenance packages, and anything else when it comes to ensuring your garage is running in optimal condition. Check out our amazing testimonials and our A+ Better Business Bureau rating!
Call us today at (614) 470-4945 for all your garage door service needs! Ask your technician about our worry-free club guarantee!

undefined
Don's Garage Door Service Columbus on Harmon Avenue
At Don's Garage Doors Service, we're proud to serve our neighbors right here in Ohio, from the bustling streets of Columbus to the friendly neighborhoods of Westerville and surrounding areas. We look forward to staying true to our tradition of excellence in garage door services, known for our expert craftsmanship, great value, and superior levels of customer satisfaction.
Whether it's a simple fix or a brand-new installation, our skilled garage door technicians tackle every job with enthusiasm and care. We're not just fixing doors; we're building strong, trust-filled relationships with every house call. Join us as we strive for excellence, transforming one garage door and one neighborhood at a time. We encourage you to come visit us at our Columbus location and we will be happy to assist you.
1740 Harmon Avenue, Suite G,
Columbus, Ohio 43223
Available 24 hours for emergency garage door repair
Garage Door Installation Near You in Columbus
As your neighborhood experts, our team of skilled technicians specializes in delivering outstanding installation services for both residential and commercial settings. We pride ourselves on a diverse range of top-tier garage door brands, including:
Ankmar Garage Doors,
Amarr Garage Doors,
Clopay Garage Doors,
Wayne Dalton Garage Doors, and more!
Selecting an ideal garage door is effortless with our extensive variety of designs, materials, styles, and colors, all curated to enhance your property's curb appeal. Whether you're drawn to the durability of a metal garage door, the classic beauty of a wood garage door, the practicality of insulated garage doors, or the modern touch of glass garage doors, our selection is designed to cater to every aesthetic and functional preference.
The climate can play an important factor in deciding on different garage door features. Columbus enjoys warm and humid summers but the winters can bring considerably cold, blistering conditions. The temperature in Columbus generally ranges from around 22 °F to a high of 84 °F. The temperature rarely dips below 5 °F or climbs above 92 °F.
Remember, if you're in a Homeowners Association, they could have strict requirements for materials and designs which could possibly affect your garage door installation costs. Additionally, it is important to check to ensure that you are in compliance with local ordinances for any garage or home improvement project. For example, according to the Residential Code of Ohio, garages must have at least one side-hinged door that is a minimum of 2 feet 6 inches wide and 6 feet 8 inches tall. A door that connects a home to an attached garage can fulfill this requirement. In addition, you may have to obtain permits from the City of Columbus. You can obtain an online permit by submitting an application online.
At Don's Garage Doors, we prioritize your convenience, ensuring installations are conducted efficiently with the highest quality garage door hardware and in alignment with your time and budget. Our commitment is to not only meet but surpass your expectations, elevating the functionality and aesthetic of your property with a superior garage door. Call us today to arrange your installation and take the first step towards a remarkable property transformation.
Columbus Garage Door Opener Installation
Don's Garage Doors is delighted to offer a plethora of choices available for both residential and commercial garage door openers. The process of selecting the perfect garage door opener can be daunting. However, our experienced garage door technicians at Don's Garage Doors are here to guide you through the selection process, ensuring you find the ideal model that aligns with your specific requirements and financial plan.
Are you looking to integrate smart technology into your garage? With advanced smartphone-controlled garage door openers, you can control your garage door operation your garage door with your smartphone. This means you can securely close your garage from anywhere or grant access to others as needed, all while receiving real-time alerts whenever your garage door is activated. Additionally, if you're considering a space-saving wall-mount garage door opener or wish to transition from a traditional chain drive to a quieter, smoother belt drive system, we offer a range of options to suit your needs.
Explore the benefits and features of different garage door openers and discover how our expert installation services can enhance the functionality and convenience of your garage space.
Is Your Garage Door Stuck?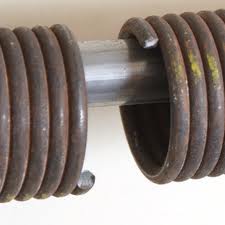 When your garage door won't close and is stuck or won't close, many homeowners often think there is a problem with the opener. However, a common issue among garage doors is a malfunctioning spring. The garage door springs are responsible for all the heavy lifting of your garage door. When the garage door won't budge, it's likely you're in need of a garage door spring replacement.
Whether it's a routine repair like replacing a snapped spring, fixing a faulty garage door opener, or even addressing more complex garage door repair challenges, our skilled team of repair technicians are standing ready to assist with prompt and dependable service.
Garage Door Maintenance Near You in Columbus, OH
Maintaining a smoothly functioning garage door is essential for safe operation and to increase the longevity of your garage door. If you want to keep your garage running in optimal condition, this is where regular upkeep becomes indispensable with our team of garage door technicians.
Our experienced garage door technicians are equipped with the knowledge and tools required to conduct detailed inspections, apply lubrication to all the moving components, and make necessary adjustments to ensure your garage door is working as it should.
If you're experiencing a noisy garage door, erratic movements, or a decline in functionality, it's time to reach out to the professionals at Don's Garage Doors. Your door may simply be off its track, misaligned, or in need of a minor tweak. We advocate for routine maintenance to identify and resolve issues promptly, which can circumvent expensive repairs or the need for full replacements down the road.
Check Out What Our Customers Are Saying About Our Garage Door Services Near You In Columbus, OH
My garage door broke on a Sunday morning. I called Monday morning hoping they could come quote it sometime that week. My door was fixed by 2pm same day! Quick, efficient, and price was right in line with what I researched it should cost. Highly recommend.
Liz C on Google
⭐️⭐️⭐️⭐️⭐️
Looking For Other Home Services To Improve the Curb Appeal of Your Home and Garage?
Check out these other local companies:
Real Estate
CASTO Residential Realty
250 S Civic Center Dr #600, Columbus, OH 43215
castoresidentialrealty.com
614-744-2098
Douglas and Associates Realty LTD
175 S 3rd St #200, Columbus, OH 43215
douglasandassociaterealty.com
614-858-8556
Roofers
Nationwide Roofing & Home Improvement
470 W Broad St, Columbus, OH 43215
roofnationpros.com
614-522-2323
Bastion Construction
470 W Broad St #1058, Columbus, OH 43215
bastionbuilds.com
614-858-8747
Lawn Care
LawnStarter Lawn Care Service
52 E Lane Ave, Columbus, OH 43201
lawnstarter.com
614-412-1808
NexGreen
2069 Builders Pl, Columbus, OH 43204
nexgreen.com
614-607-5007
*Please note, that Don's Garage Door Service does not endorse the business listed above. You should always do your own due diligence with any business you work with*