Are you in Denver, CO, and searching for a trustworthy garage door service nearby? Your search ends with Don's Garage Door Service! Your garage door isn't just an essential element of your house; it's one of the largest moving pieces you'll ever own and the smile of your home. That's why at Don's Garage Doors, we've established a reputation for being the best garage door repair company, consistently delivering superior service and ensuring customer satisfaction. Our commitment is to provide exceptional garage door services, using only the finest garage door materials and components available in the industry.
Experience unmatched service with Don's Garage Door Service, offering a wide array of services to the Denver community. Our range includes various garage door installations to match any home style, tailored garage door opener installations to meet your unique needs, thorough garage door repairs for all types of issues, replacing malfunctioning garage door parts or garage door spring replacements, regular garage door maintenance plans, and more, all to keep your garage in peak condition.
Don's Garage Door Service In Denver, CO
At Don's Garage Door Service, we're honored to serve our Denver community and the neighboring areas. Our dedication is steadfast in maintaining our reputation for superior garage door services, outstanding craftsmanship, exceptional value, and unparalleled customer satisfaction.
Whether you need a garage door repair, our expert garage door technicians approach every task with meticulous care and attention. We do more than just fix doors; we're cultivating robust, trust-based relationships with each home visit. Join our journey towards excellence, one garage door and one Denver neighborhood at a time. Take a glimpse at our impressive before & after garage door transformations showcasing some of our recent endeavors. Schedule your service across Colorado and the Greater Denver area and we will be glad to help you with your garage door needs. Be sure to ask your technician about our worry-free club and take a look at our outstanding testimonials to see why we have an A+ rating with the Better Business Bureau!
Garage Door Installation Near You in Denver, CO
Choosing the perfect garage door becomes a breeze with Don's Garage Doors! As Denver's local garage door specialists, our team of proficient technicians excels in providing top-notch installation services for both homes and businesses. We take pride in offering a wide selection of premier garage door brands, such as Ankmar Garage Doors, Amarr Garage Doors, Clopay Garage Doors, CHI Garage Doors, Door Link Garage Doors, Martin Garage Doors, Northwest Garage Doors, and Wayne Dalton Garage Doors.
How Much Does a New Garage Door Cost Near You in Denver, CO?
When considering the purchase of a new garage door in Denver, CO, several factors play a role in the overall installation cost, which typically includes both labor and materials. Here are some key aspects to consider:
The size of your garage in Denver might require just a single door, which naturally would have lower material costs. On the other hand, setups needing multiple doors will incur higher costs due to additional materials.
The choice of garage door color is vast, ranging from various shades of blue, red, yellow, or purple to more classic hues like white, black, or brown.
Selecting a style that complements your home's exterior is crucial. Options range from contemporary, carriage house, and modern to farmhouse, mid-century, and traditional designs.
The material of the garage door is a crucial decision balancing aesthetics and functionality. Whether you want a strong metal garage door, a classic wooden garage door, a cozy insulated garage door, or a cool aluminum or glass garage door, we have something for everyone's taste and needs.
Consider your garage door insulation needs to maximize energy efficiency. We offer a selection of garage doors with different R-Values, tailored to meet your specific needs.
The type of garage opener you choose should suit your door's requirements and your personal preferences. Options include standard automatic openers with mechanisms like tilt-up, roll-up, sliding, or swing-out. Heavier doors may require openers with stronger motors.
In Denver, where the climate can significantly influence your choice, different garage door features become crucial in your decision-making process. In Denver for example, while the summers can be warm, the winters are very cold and snowy. The temperature in Denver usually ranges between 20°F to 96°F.
Remember, for those in Denver within a Homeowners Association, there may be stringent guidelines regarding materials and designs that can impact the cost of your garage door installation. It's also vital to verify compliance with local Denver regulations. For example, according to Denver Building Codes, a garage door with windows or glass panels (also known as a glazed garage door) must protect against wind-driven debris and must comply with the specifications of a recognized impact-resistance standard or the ANSI/DASMA 115 requirements.
At Don's Garage Doors, we focus on your convenience, guaranteeing efficient installations using the highest quality garage door hardware, all while respecting your schedule and budget. Our aim is not just to meet but exceed your expectations, enhancing both the functionality and appearance of your Denver property with an exceptional garage door. Contact us today to schedule your installation and embark on an extraordinary journey of transforming your property.
Denver Garage Door Opener Repair & Installation
Don's Garage Doors is excited to present a wide array of options for both residential and commercial garage door openers. Whether you need garage door opener repair or are choosing the right garage door opener to install, the choices might seem overwhelming, but our skilled technicians at Don's Garage Doors are ready to assist you in finding the perfect fit that matches both your unique needs and budget.
Interested in upgrading your garage with smart technology? With our cutting-edge smartphone-controlled garage door openers, you have the power to operate your garage door from anywhere. This feature allows you to securely close your garage remotely or let others in as needed, while also receiving instant notifications whenever your garage door is used. Moreover, if you're considering a compact wall-mount garage door opener or thinking of switching from a traditional chain drive to a quieter, smoother belt drive system, we have various options to meet your preferences.
Is Your Garage Door Stuck?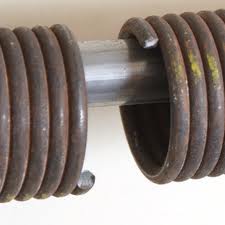 When your garage door in Denver, CO, refuses to close or gets stuck, many homeowners might first suspect an issue with the opener. However, a frequent problem with garage doors is a faulty spring. These springs are crucial for the heavy lifting of your garage door. If your garage door isn't moving, a garage door broken spring replacement is probably needed.
Whether it's a standard repair such as replacing a broken spring or whether it's fixing a malfunctioning garage door opener, or tackling more intricate garage door repair issues, our experienced team of garage door technicians in Denver is prepared to provide prompt and reliable service.
Denver Garage Door Maintenance Near You
Ensuring your garage door operates smoothly and safely is vital for its longevity and optimal performance. Regular maintenance is key to keeping your garage in top shape, and our team of garage door technicians is here to help with that.
Our skilled garage door technicians in Denver are well-equipped with the expertise and tools necessary for thorough inspections. They proficiently lubricate all moving parts and make the required adjustments, guaranteeing that your garage door functions flawlessly.
If your garage door in Denver is noisy, moving unpredictably, or showing a decrease in performance, it's time to consult with the experts at Don's Garage Doors. The issue could be as simple as the door being off its track, misalignment, or needing a small adjustment. We emphasize the importance of routine maintenance to identify and fix problems early on, helping you avoid costly repairs or the need for complete replacements in the future.
Garage Door Repair Frequently Asked Questions
Is it Safe For Me To Repair My Garage Door Myself?
While handling minor garage door maintenance tasks yourself, such as tightening screws, lubricating moving parts, or changing simple parts like weatherstripping is often feasible, undertaking more complex repairs isn't typically recommended for homeowners. This includes issues with garage door springs, cables, or openers. These kinds of repairs come with various risks, including potential safety hazards, the requirement for specialized tools and equipment, and the possibility of invalidating your garage door's warranty.
In most cases, it's preferable to enlist the services of a professional garage door repair technician, particularly for substantial repairs or if you're unsure about the problem's specifics. This approach ensures that repairs are conducted with the necessary skill, experience, and adherence to safety standards.
What Happens if My Garage Door Isn't Balanced?
An unbalanced garage door can lead to a host of issues, such as accelerated wear and tear, uneven door movement, extra stress on the door and its parts, and the risk of damaging your entire garage door system. Keeping your garage door balanced is crucial for its safe use and durability. Balancing a garage door usually involves adjusting the spring tension for proper counterweight, examining tracks and rollers, and ensuring the cables are in good condition. It's important that these tasks are carried out by a trained and experienced garage door technician to ensure precision and safety. Routine maintenance and professional evaluations are key in both preventing and addressing balance problems, helping maintain the long-term functionality and safety of your garage door.
Check Out What Our Customers Are Saying About Our Garage Door Services Near You In Denver, CO
"Great experience with Don's Garage Doors, from initial quote to job completion. Gerritt provided the estimate and explained our options completely. Gerritt also installed the door and did so without any complications or surprises. We would definitely choose them again!"
John W on Google
⭐⭐⭐⭐⭐
"Very pleased with my service from Don's Garage Doors. Seth was so knowledgeable and helpful. I will definitely use them regularly and I will ask for Seth. Work was done in a timely manner, arrived on time and totally professional. I appreciate good service."
Mary S on Google
⭐⭐⭐⭐⭐
Looking For Other Home Services To Improve the Curb Appeal of Your Home and Garage?
Check out these other local companies:
Home Improvement
CS Home Solutions
1550 Larimer St Ste 628, Denver, CO 80202
303-563-9380
cshomesolutions.com
Dohn Construction
659 Santa Fe Dr, Denver, CO 80204
303-680-4565
dohnconstruction.com
Driveways & Hardscapes
Denver Concrete Inc.
4531 Lincoln St, Denver, CO 80216
303-622-3191
coloradoconcreteco.com
Driveway Experts Asphalt Paving
3773 Cherry Creek N Dr #575, Denver, CO 8020
720-256-0063
Front Range Concrete Works LLC
1001 Bannock St Suite #437, Denver, CO 80204
720-999-0756
frontrangeconcreteworks.com
Landscaping & Lawn Care
Landscaping Denver
Cleveland Pl &, 15th St, Denver, CO 80202
720-730-3165
landscapingdenverco.net
Mountain Tech Living
828 17th St Unit 817, Denver, CO 80202
720-465-0785
mountaintechliving.com
*Please note, that Don's Garage Door Service does not endorse the business listed above. You should always do your own due diligence with any business you work with*